Last Updated on February 23, 2022 | Written By: Riken Solanki
February 11, 2016
5
min read
The B2C online business models have received an enormous response from customers across the world as they comply with the changing human lifestyle. One such eCommerce business model is quickly gaining ascendancy; especially among urban households is the online grocery business. The transition from standing in long queues to get your product delivered at your doorstep with a few taps on your smart-phone has been seamless. Very special thanks to grocery shopping mobile apps, without them transition would not have been possible.
As per the survey we can see how the Grocery shopping business is growing digitally and users love to do shopping through mobile apps.
As shown in the above statistics, back in 2012 online basic food item sales was $6 billion that gradually stands at $22 billion USD and it is expected to reach $21.7 billion USD and it may be higher than that. It is so obvious that you would not like to miss that colossal income. So that is the primary motivation behind why you need to build a grocery shopping mobile app.
Nowadays there has been a storm surge in grocery mobile app development. There is a strong reason behind it because modern day groceries have seen a significant rise in the sales and converting customers to grocery app will give them a personalized and engaging shopping experience.
My Business is Different From Their Business
Grocery App to cater diverse purposes and different business
So, let me make you understand what makes a grocery app sought after by retailers and customers and why you should create a grocery app for your own grocery business.
Just like every other retailer if your statement is "my business is different from their business" then still no worries,I have categories the different types of businesses as well.So, let's have a look that how a single grocery application can easily fulfill the diversified needs of a store.
Different types of Grocery apps for different types of grocery stores
In-store Grocery apps
To offer personalized services to customers
These apps recreate the physical store virtually by giving a clear idea to customers about the grocery products and their quality, sending notifications about the offers, intimating the grocery store's location when a customer is near, and so on.
eCommerce Grocery apps
Customers can purchase grocery as per their availability and time
You can enable your customers to purchase grocery items from where they are. These apps are deployed by online retailers, and brick & mortar retailers who offer delivery services.
Personalized Grocery apps for shoppers
To give shoppers personalized shopping experience
These apps let shoppers create a grocery list, set reminders for purchasing items, share grocery related info with their contacts, and many more.
Must have Features for today's tech savvy shoppers
When you build a mobile app for grocery, the eventual purpose is to give your shoppers effortless shopping experience and to make it happen you must add the listed below features in a mobile app to grocery.
Lucrative offer
To turn on shoppers to download your grocery mobile app offer lucrative coupons through the app to improve customer loyalty.
Store locator
When your customers are at a closer location, notify about the store's presence.
Push notifications
Notify customers about the new grocery products, discount details and so on.
Flexible payments
The grocery mobile app you create should support major currencies and leading payment gateways.
Scheduled Delivery
Make sure about convenient delivery time and items.
Advancedsearch
Incorporate advanced search to help shoppers to find their preferred grocery items.
Multi-lingual
If you are planning to take your app on a global level multi-language support will certainly urge customers to download your app.
Meet Jone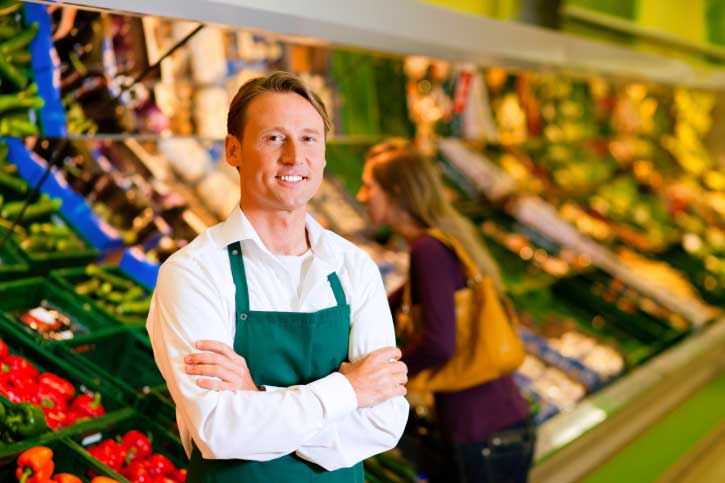 Jone owned a very well-known Grocery store in the middle urban area of the city. He was satisfied with rising customers and business sale graph. However, he always wanted to change his shoppers' grocery shopping experience and wished to change overcrowded grocery store to the pre-advanced grocery store application to shop virtually at their availability and convenience. He wanted to do this because except the physical visit of his shoppers he used to receive hundreds of orders on the telephone. And the numbers of telephonic orders were equivalent to the physical store shoppers. It was taking an amount of time to pack an each and every list of the grocery and deliver it to the right customer. Being a well-known store owner it was needful for him to satisfy the customers' grocery demands as per their availability. If something left, then it demanded another trip to the customer's home.
This hectic routine schedule makes the store owner tired and exhausted. With each passing day it was becoming really problematic for him to deal with the shop customers and manage telephonic orders. To come out of this worst scenario, he finally approached us to make his shopper's grocery shopping experience convenient as well as better and to bring them to the mobile device. And most importantly, he wanted to increase the business reach and sale only with a mobile app.
We SUCCESSFULLY helped him by creating an easy and convenient a paid window desk application.
We added different functionality to allow users do following
Advanced Search – To search particular product
Access to more brands and products
Price comparison
Shop items scanning the bar code
Single master list by store or department
Easy Browsing
Delivery Schedule – day and time
Low or no delivery cost
Avail same day delivery
Multiple payment options – Net Banking, Debit Cards/Credit Cards, Cash on Delivery, Mobile Wallets
Membership options
Order and re-order without making lists again
Order tracking
We added suitable functionality to allow admin do following
Login on the web-based backend panel by entering their unique username and password.
Create account for advertising company.
Manage account of an advertising company and app users.
View the details of customers who redeemed the coupons.
View the graphs that would be created for the advertising company
How much does it cost to develop Grocery App for my Small Business?
It depends. I want you to go through the following case study as one of our clients approached us to build grocery app and the cost includes below features for android and iOs is approx $5000 for each platform with three-month technical support and maintenance.
How much time does it take to build similar Grocery app
It takes only six weeks of time period
Develop your own Grocery Store App with our Proven Solution
So, if you are looking to develop a mobile app and wondering how much grocery app development costs, then choose Bacancy Technology for an innovative and advanced Grocery app development company. Here at Bacancy technology,we have a team of in-depth knowledge and extensive experience developers and you can Hire Grocery Mobile App Developers from us to get it done correctly.