November 22, 2019
5
min read
When it comes to developing a website for your business, the choice of framework happens to be the most important one. Where some might prefer using java, few invest in Python, and we bet on PHP. Not only does the language is featured and rich in functions, but also the frameworks built using the same account for its tremendous popularity.
Laravel – Under Review
Adopting the model-view-controller architectural pattern, Laravel is a PHP based website development framework that fosters the development of exquisite websites for businesses across the globe. Building websites using the Laravel framework is easy and does not incorporate many complexities. In fact, Laravel has an extensive set of libraries and detailed documentation, which makes it easier for the developer to understand and move ahead with the development process.
In addition to the above, Laravel has pretty easy syntax and also facilitates seamless integration with the front end.
It all helps in making Laravel Development an easy and efficient practice.
Laravel for Organizations
For business organizations that seek to merge their business operations through an app, considering Laravel for backend development would serve your purpose best. Whether a small-sized enterprise or an SMB or a Fortune 500 organization, Laravel help all scale their business through custom-fit development services. Also, websites developed using the Laravel framework are user-friendly and encompass bundle of features keeping your business one step ahead of the competitors.
If you aren't much sure about why Laravel, this article is the right place for you. Shedding light on the prospects of Laravel web development, we debate on how Laravel website development can fuel the growth of your business.
Five Ways Laravel Helps Businesses Grow
(1) Extensive Popularity
No matter how efficient your website is or how diligently you have deployed the site, it is bound to experience technical issues. Now, considering that your website or application development process is stuck at one point, you would not want to restructure the entire website, just to get a solution, right?
Where some of the languages suffer from lack of resources, the fact that Laravel is one of the best PHP development frameworks, it has a huge community with thousands of developers holding tremendous expertise in the framework. No matter what and where you get stuck, the Laravel community would come to rescue and solve your problems in no time. This way your business never stops. Not to forget the ease with which developers can build sites, Laravel happens to be highly popular among web developers worldwide.
(2)Performance Hike
Equipped with an array of tools and supportive technologies, websites developed using Laravel are not just interactive but also responsive. Alongside this, the websites are tailored in the sense that it triggers the application speed and quickens the interaction between the user and the application. This creates an everlasting impression, increasing the likelihood of customers spreading a word about the efficiency of the same.
Additionally, the inception of Laravel CMS boosts the application's output which in turn affects the website. It is also seen that the total time taken to build a website using Laravel is less as compared to other languages. The Memcached feature of Laravel ensures faster execution of the process, in a way improving the overall app performance.
(3) Relentless Security
Building websites means going online and going live. Undoubtedly, an excellent website would lure customers and intimidate them to engage with your business. However, if the website isn't secured, it becomes vulnerable to hacks and software leaks. For organizations that run an online store or eCommerce data, it becomes imperative to protect their customer's vital information.
Worried?
Well, you don't need to, as the Laravel framework is highly secured and embed all possible measures to safeguard the privacy of customers' data. The entire code structure is secured and free from cyber threats. Also, the companies that develop Laravel based websites ensure that the final site is threat free and secured against SQI injection risks. Evidently, customers prefer engaging with websites that are secured and risk-free. Higher the engagement, the greater is the business worth.
(4) Reduced Time To Market
With increasing popularity, the competition also increases. And in the digital world, even a second matters. When you decide to go live with your business, it is not just about how good is the developed website but also help fast is the website launched.
Laravel has inbuilt tools and several functions that can be directly embedded within the website during the development process. This, as a matter of fact, reduces the overall time taken to build the website.
In addition to the above, Laravel follows an MVC architecture, which in itself is the best and the most organized way to develop a website. The lesser the time is taken to deploy a website, the faster is its integration. As a result, this lays an impact on the total revenue of the business.
(5) Enhances Traffic Management
Laravel is adept in creating websites that are robust, feature-rich and scalable. All of this adds up to the interaction a user has with the website. When customers are satisfied with their engagement, the likelihood to promote the same is more, and with this, the overall traffic experienced by the website dramatically increases. As a common fact, when a website witnesses higher traffic, more than what it is entitled to, it crashed. This affects the online visibility and website search engine rankings.
However, this is not the case with Laravel websites. It appears that managing and controlling website traffic for a Laravel based website is easy and does not require much effort. Laravel is extremely fast and even when the traffic increases, the website still manages to adhere to the customer's requests, execute and answer back seamlessly.
Final Word
Having said all of the above, it is clear that Laravel is excellent when it comes to developing a website for your business. From adding significant features to fighting cyber threats, embedding responsiveness, and managing massive traffic, Laravel leads the charge as one of the best website development frameworks for organizations that seek to expand and optimize business operations. If you too are looking for a website, connect with a Laravel website development company for detailed assistance.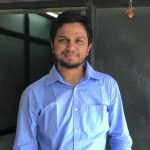 Rajdip Chauhan is a Lead PHP programmer with a proven track record of incorporating user and business requirements into cost-effective, secure and user-friendly solutions. He is passionate about Coding, Blogging, Gaming, and Tiktok. Being a techie, he is excellent at understanding data structures and algorithms.