August 20, 2019
7
min read
Last Updated on August 21, 2019
Thanks to the development of technology that is making everything so easy and convenient in our daily lives. If you take a moment to observe, then you will come to know that there are disastrous changes in machines like refrigerators are adjusting the temp itself, computers are performing smarter logic itself, cell phones are getting smarter, and many more things are being digitalized and getting ahead of itself. Seeing all of these changes, all I can say is betterment, and that is only possible because of the development of these technologies.
Modern technologies like AI – artificial intelligence, ML- machine learning, DL – deep learning, DS – data science have become the buzzwords that everybody talks about to meet the current market opportunities, but no one fully understands that what it is. All of these terms seem very complicated at first. There is a misconception related to the words as most of people think these things are the same as they directly relate to, Machine Learning or Artificial Intelligence. However, that's not true. So, I am writing this blog to washout the illusion by elaborating and stating the significant difference between AI vs. ML vs. DL vs. DP and how they are used in business. Let's deep dive into these technologies.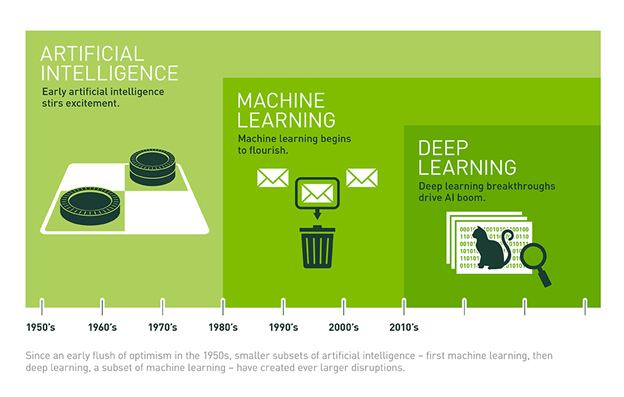 Source: Nvidia
What is Artificial Intelligence?
The term Artificial intelligence was first introduced in 1956, and due to advanced algorithms like increased data volumes, improvements in computing power and storage AI has become very much popular. In 1960, the US defense department took a special interest and explored topics like symbolic method and problem-solving. The DARPA – Defense, Advanced Research Projects Agency, accomplished the first street mapping project in the 1970s and introduced first personal assistant in 2003 away long before Cortana, Alexa and Siri existed.
Whereas in Hollywood movies like, Transformers AI is represented as human-like robots that are taking over the world. However, the present evolution of AI technology neither that terrifying nor that smart. Instead, AI has been benefitted by numbers of industries, and there are modern examples like healthcare, retail, fashion, education, and more.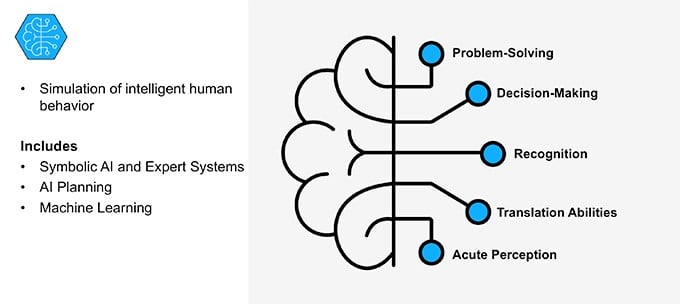 Source: https://mapr.com
The core purpose of AI is to impart human intelligence to machines. It specifically focusses on making the devices more intelligent and thinks as well as act like humans. Such devices are being trained to resolve problems and learn in a better way than humans do. Self-driving cars and robots are the best examples of AI.
At present, AI deals with the following issues;
General Intelligence
Knowledge representation
Learning
Motion and Manipulation
Natural Language Processing
Perception
Planning
Reasoning and Problem Solving
Social Intelligence
What is Machine Learning?
"Hey Siri, can you please explain what is Machine Learning?"
I am sure you might have purchased from Amazon. So, while browsing the products, it recommends similar products that you might be interested in. You might have also noticed that the combination of products is also being suggested. So, have you ever wondered how does this recommendation happen?
This is machine learning my friend.
You might have received a call from the bank requesting to take a loan. What do you think, do they call everyone out there? No, they call only selected customers who are accessing similar websites or lookalike interested in purchasing their product. This target marketing is applied through clustering. ML is a subset of AI that exclusively focuses on making predictions based on buyer experiences. It enables the computer to make a data-driven decision rather than explicitly program for carrying out a specific task. The algorithms are designed in a specific way that learns and improved over time and helps the user to make a better decision.
Types of machine learning
Supervised and semi-supervised learning
Unsupervised learning
Machine Learning deals with the listed below issues:
Analyze data
Collect data
Filter data
Train algorithms
Test algorithms
Use algorithms for future predictions
Common examples are image recognition, improve search engine result, personal assistant, and redefined product recommendation.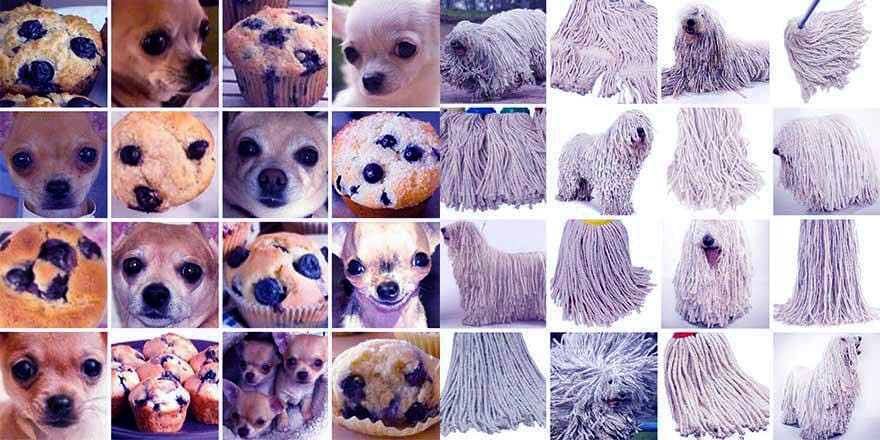 Source: data-flair.training
What is Deep Learning?
Deep Learning is an approach to Machine Learning that is recognized via neural networks. A neural network is a set of task-specific algorithms that makes use of deep neural networks that are specifically inspired by the structure and function of the human brain. Deep learning is motivated by theoretical arguments from circuit theory, current knowledge, intuition, and empirical results neuroscience. Deep Learning algorithms can be classified by various types and identified by patterns to provide the desired output when it receives an input.
Deep learning is the best example in this regard it's associated with but not interchangeable with border category of machine learning. Deep learning sits inside machine learning that sits inside artificial intelligence.

What is Data Science?
Data science is a multidisciplinary term for a whole set of tools and techniques of data inference and algorithm development to solve complex analytical problems. It makes use of scientific processes, methods, and algorithms to make it happen. Initially, the goal was to identify hidden patterns in raw data to help a business to enhance and expand their profits. The term Data Science become a buzzword when Harvard Business referred to it as "The Sexiest Job of the 21st Century".
The data science life cycle has six different phases:
1. Discovery
2. Data preparation
3. Model planning
4. Model building
5. Communicating results
6. Operationalizing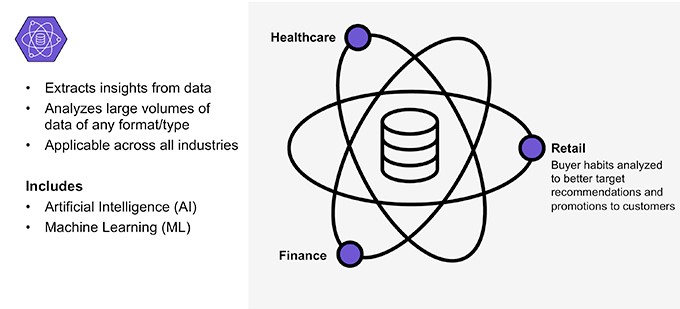 How is Data Science Associated with AI, ML, and DL?
Data Science is interdisciplinary that can be used in various fields such as machine learning, visualization, statistics more. It's a process as well as a method that analyze and manipulate the data. It also enables us to find the meaning and appropriate information from the large volumes of data. It makes it convenient to use data for making viable business decisions in science, business, technology as well as in politics.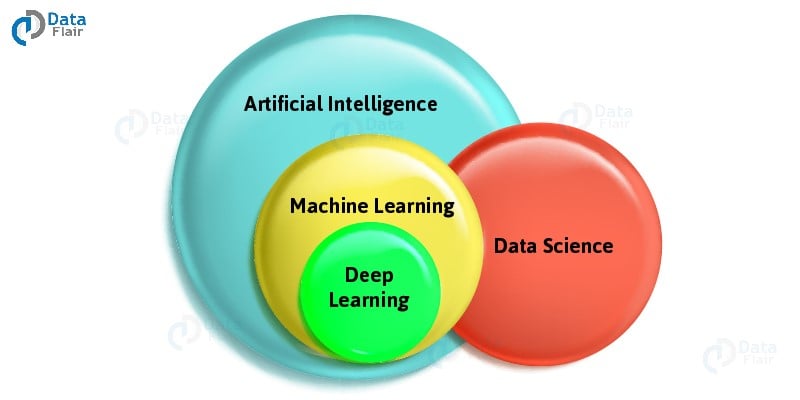 Data Science is interdisciplinary that can be used in various fields such as machine learning, visualization, statistics more. It's a process as well as a method that analyze and manipulate the data. It also enables us to find the meaning and appropriate information from the large volumes of data. It makes it convenient to use data for making viable business decisions in science, business, technology as well as in politics.
Difference between Machine Learning and Deep Learning
Machine Learning
Deep Learning
Data Dependencies
Superior performance on a small and medium dataset
Performs excellent on a big dataset
Hardware dependencies
Performs on a low-end machine
Preferable requires a machine with GPU. Deep Learning performs on a noteworthy matrix multiplication
Feature engineering
Carefully understand the features of how it represents the data
Required to understand the specific best functionality that represents the data
Execution time
From a few minutes to hours
It requires a time of up to 2-3 weeks.
Interpretability
Some algorithms are easy to interpret like, logistic and decision tree. Whereas some are almost impossible
like, SVM and XGBoost
Difficult to impossible
When it's ideal to use ML or DL?
| | Machine Learning | Deep Learning |
| --- | --- | --- |
| Training dataset | Small | Large |
| Choose features | Yes | No |
| Number of algorithms | Many | Few |
| Training time | Short | Long |
Summary
AI – Artificial Intelligence is a comprehensive term; it is conveying a cognitive ability to a machine. Earlier AI systems were using the pattern to match and expert systems. The core idea behind machine learning is that the machine itself learn and respond without human intervention. Whereas, Deep Learning is the breakthrough innovation in the field of artificial intelligence. As it enables many applications of machine learning by the overall extension in the field of AI. AI is the present and has a bright future with deep learning's help. If there is enough amount of data to train, then deep learning delivers impressive results, for text translation and image recognition.
I have briefly described Machine Learning vs. Artificial Intelligence vs. Deep Learning vs. Data Science. We have clearly understood what each term is explicitly specified for. At Bacancy Technology, our focus is on developing cutting-edge solutions that help you resolve today's real-world problems faced by businesses. If you are looking for an organization that can assist you with Machine Learning Development services or can you give you in-detail insights on AI Consulting that matters to your business, then feel free to get in touch to leverage our top-of-the-line expertise.

Storyteller, Marketer, Developer, Writer, Thinker, Enabler, Rescuer, Wordsmith. I see myself as a Content Strategist. I love to write about anything and everything that pertains to the digital world, as I believe it's an ever evolving space creative in its own way. I love facing challenges, Blogging and sharing technologies