Last Updated on March 23, 2022
September 13, 2018
4
min read
Apple Inc held its annual iPhone-centric special event on September 12 in Steve Jobs Theater at the Apple Park headquarters in Cupertino, California. This year's keynote saw the debut of the iPhone XS, iPhone XS Max, iPhone XR, and Apple Watch Series 4 models and exciting products – much to the delight of keen fans.
It took Apple 3 hours to introduce new models and we have recapped the entire event in under 2 minutes for our valued readers who want a no-frills of all the announcements
Here's what was announced:
iPhone XS and iPhone XS Max
iPhone x is getting an upgrade and new size options: iPhone XS 5.8 inch -$999 and iPhone XS Max 6.5-inch – $1099. iPhone XS max has a similar body, but it has a larger display than the usual plus size phones. The home button has been permanently eliminated with face ID.
As usual, the cameras are better than ever before and the Tim Cook, uttered the same words like he did last year. 12-megapixel cameras have an improved HDR mode and have bigger sensors. The popular portrait mode has a new setting to emphasize the background and subject. Now it would be possible to regulate the depth of the field even after the picture has been captured.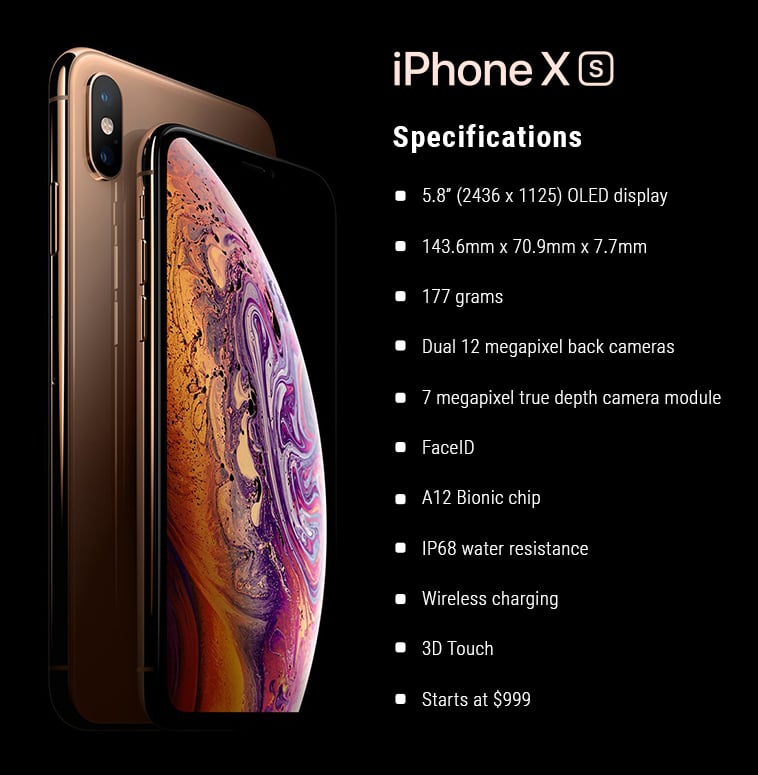 Apple introduced its most ever expensive iPhone, an iPhone XS Max with 512 GB of storage. However, the Apple has decided to keep the price of iPhone XS as the last year's iPhone X – $999.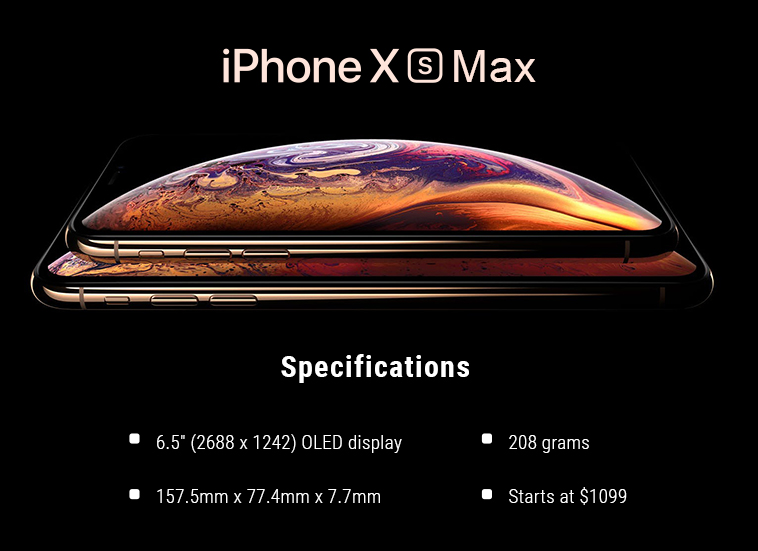 The iPhone XS and XS Max will be available from this Friday, September 14 to pre-order in the US and other countries.
The iPhone XR
Apple genuinely surprised with a third smartphone iPhone XR $749. The 6.1-inch screen, a bright LCD screen and a variety of colors including black, blue, white, coral and red. As mentioned above there is no home button and it can be accessed by swiping up.
The iPhone XR has one 12 pixels wide-angle camera with a similar portrait feature that blurs the background. IPhone XR has no 3d touch feature, but it has added haptic feedback, so the screen vibrates in response to touch.
iPhone XR pre-booking starts from Friday, October 19 and it will available for sale in stores from October 26, in more than 50 countries.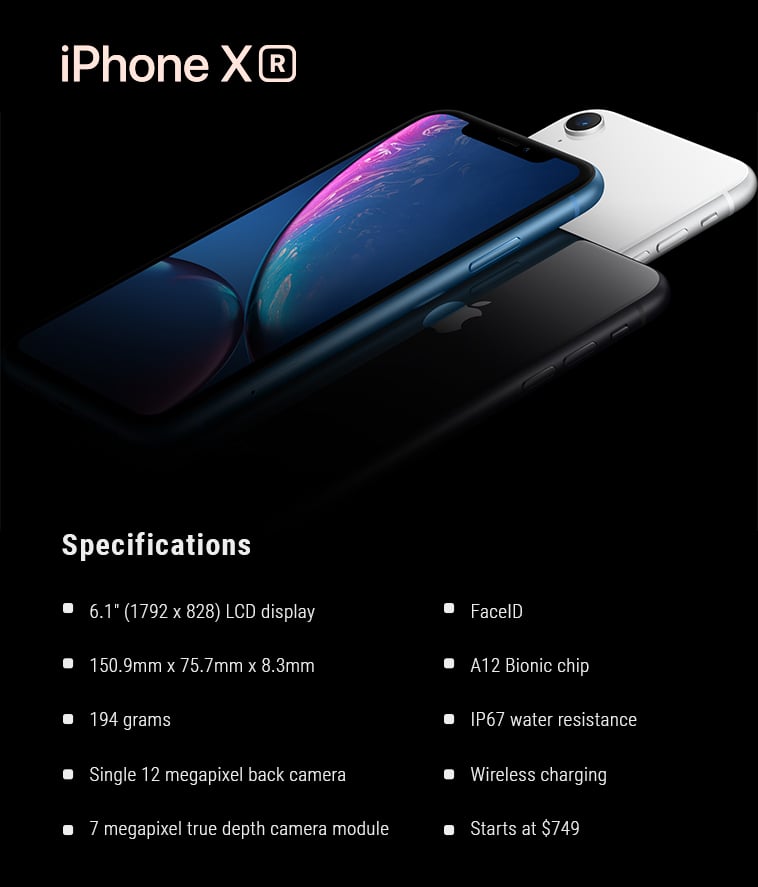 The company will continue to sell the iPhone 7 and iPhone 8 in regular and Plus sizes. The cheapest iphone in the line-up is the iPhone 7 $449. The iPhone 8 starts at $599.
Apple Watch Series 4
Apple also introduces an upgrade to its 3-year-old smartwatch with 30% larger edge-to-edge display and curved corners. The watch is slightly thinner and it has a more reliable reception and it is 2 times faster thanks to the new processor.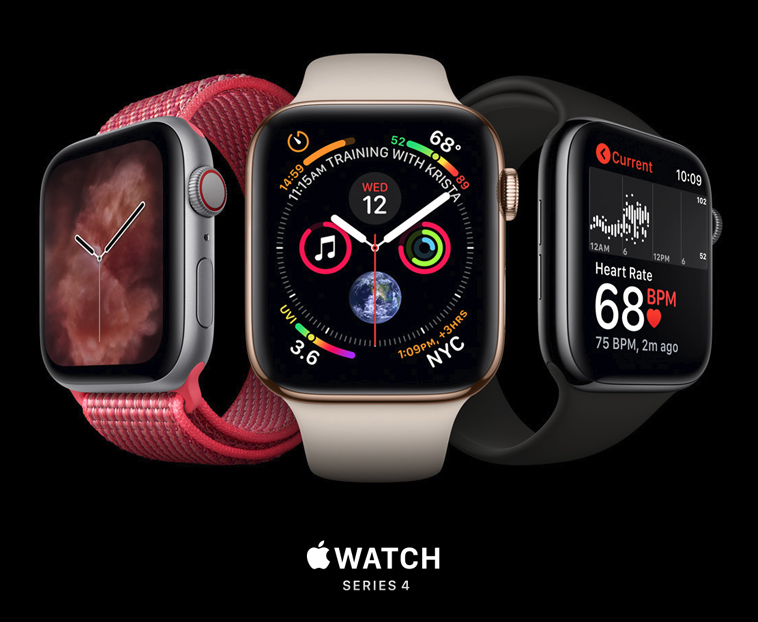 The Apple Watch Series 4 starts from $399 with GPS and $499 for cellular models.
The Series 3 will be available at $279
The company has decided to sell Series 4 with GPS option in 26 markets and the cellular Watches in 16 markets.
The orders for new Apple Watch Series 4 will be available from Friday and shipping will begin from 21st.
The new features include new UI, Larger display, fall detection, S4 2x faster, digital crown with haptic, loudspeaker, ECG app, Cellular, GPS and Altimeter, Swim proof, Bluetooth 50 and optical heart sensor.
For the very first time, the new Apple watch offers new heart-monitoring features, ECG, heart rhythm screening and low heart rate notification.
Software Launch Dates
For the existing Phone users, the new update of iOS 12 will be available from Monday, Sept 17 with new Animojis, customized Memoji and much anticipated time management feature to genuinely help people use their device less.
macOS Mojave
Meanwhile, Apple confirmed the public version of MacOS Mojave, which will be released on Monday, September 24 after iOS 12th on September 24th. It includes the clean-up tool to for your messy desk, dark mode and some classic iOS apps including News, Voice Memos, Stocks, and Home.
iPhone Trade-in Program
Apple has also mentioned their recycling program GiveBack. The company will buy your good condition old devices or will recycle them for free. Apple has reiterated that it's completely powered by clean energy. This is the 2nd event, which held in the Steve Jobs Theater with a 1,000 seat underground venue with a metallic carbon-fiber roof and 20-foot high glass lobby.