April 27, 2016
7
min read
2012 was the year of rising Javascript MVC frameworks and libraries with numbers frameworks, which were released or went under the spotlight. Among others, you must have heard about backbone.js, Ember.js but my personal and favorite is AngularJS. It's a Javascript MVC framework developed and managed by Google to build proper architecture and maintainable web applications.
For the past couple of years, I have loved developing web applications with AngularJS. As it has made it so easy to provide the advanced user experiences that people are coming to expect. And as a developer, I have enjoyed how easy Angular has made two ways Databinding and unit testing the JavaScript code with its built-in dependency injection.
What Makes Angularjs First and foremost Choice for The Front-End Development
Real-time communication is one of the most common issues faced by the web application. Whether it is broadcasting announcements to all the app's users or presenting the most recent data, real-time communication is indeed a crucial feature. As it lets you implement the capability in your application, ensuring the end user receives the best user experience.
If you have spent time working with AngularJS, then you would be familiar with the Firebase is a real-time data store that makes it convenient to save the data across any platform. AngularJS aim at the front-end development to create a website that loads in the blink of an eye. This is what impresses the user with its brilliant layout, well-constructed pages, and impressive visuals.
Since its initial release in 2009, AngularJS has come a long way. Let me get you through some good reasons what make this framework so popular and powerful.
Two-way data binding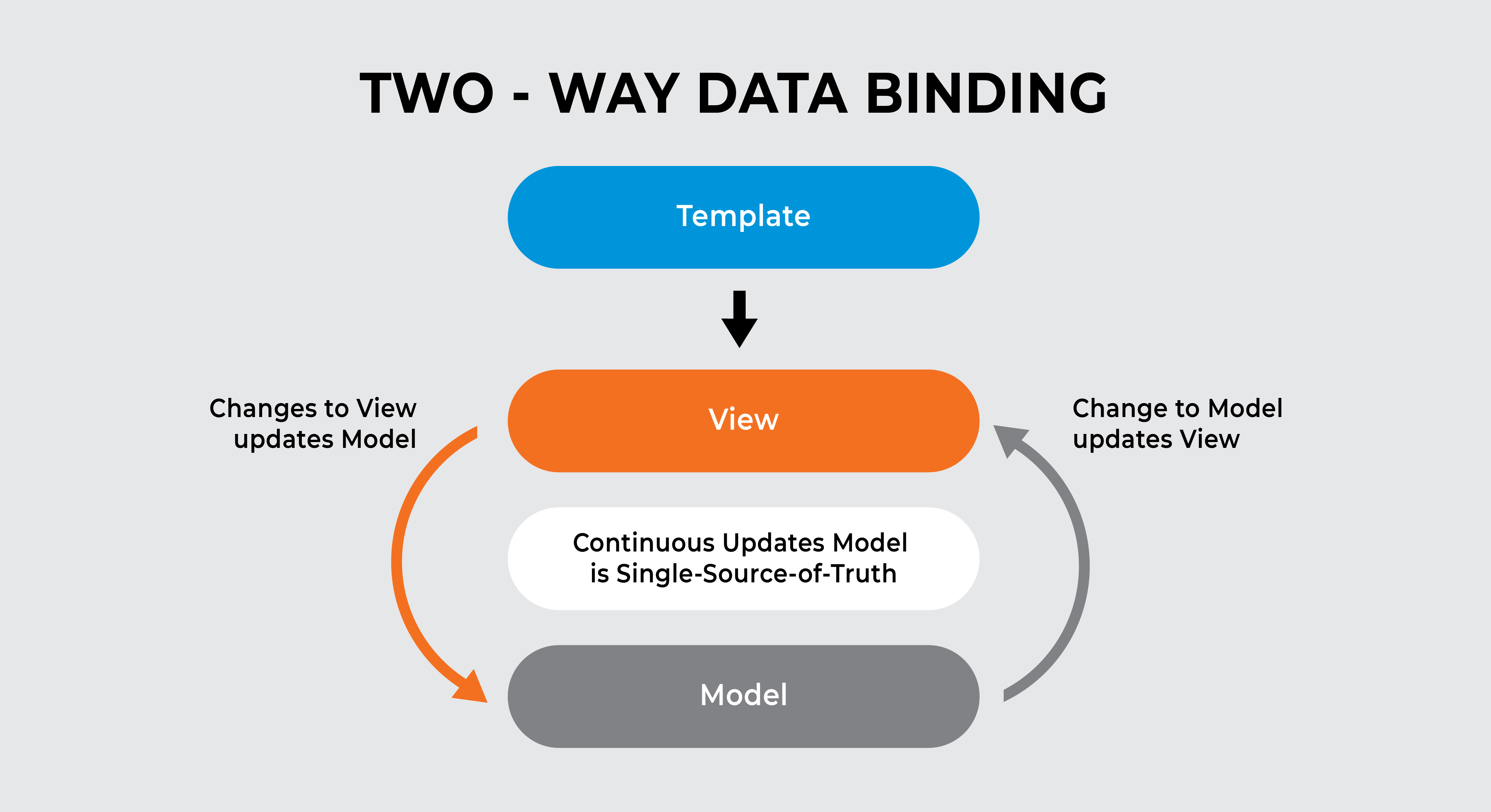 Websites and apps developed using AngularJS do not require developers to write complicated codes for synchronization of data between the model and view components. AngularJS implements data-binding in such a manner that the underlying data model immediately reflects the changes made in the user interface.
On the other hand, non-Angular websites or apps bind data only in one direction. They combine template and model components into a view. The problem with them is view does not reflect any changes to the model or related sections of the view until the developer writes a code that establishes synchronization between the view and the model.
Dependency injection
It plays a crucial role in making components fit for reuse, easy to maintain and testable. Dependency injection in simple term is a software design pattern that empowers components with their dependencies rather than using codes within the component. As a result, it becomes possible to configure dependencies. Value, factory, service, provider and constant are the components that can be injected into each other as dependencies.
HTML Template
HTML is used to write templates in AngularJS as it contains Angular-specific elements and attributes. With the dynamic view, a user can see in the browsers attributable to AngularJS, which provides a template with the information from the model and controller. AngularJS also converts HTML into a Digital Subscriber Line, thus makes it much easier for people to understand.
Directives
AngularJS add new vocabulary to HTML to extend it to turn a static document into a dynamic template. AngularJS uses ng-directives to extend HTML. It's all because of directives that a static HTML page gets a life, even without the addition of JavaScript. Directives, without a doubt, is the best feature of AngularJS as extends the grammar of the web via reusable HTML elements, attributes, and classes.
HTML tags are created using directives, which helps front-end developers to decorate elements with behavior and provides an interesting way to manipulate DOM attributes.
Easy-to-test code
Easy testing of codes is an active feature of AngularJS, thanks to strong sets of tests available for any javascript code. Testing becomes easier with AngularJS due to its built-in dependency injection. Going by the recommendation of the AngularJS team, Protractor, which is their purpose-built end-to-end testing framework, is the best to go for testing AngularJS apps. Another benefit of using Protractor is it saves you a lot of time that is usually wasted in sleep and waits.
Reasons Why AngularJS is being Used to Build Interactive Dashboard
(1) Beneficial for Big Projects:-
When it comes to building big projects, there are numbers of things that are required to take into consideration like transparency, scalability, less loading time, durability, security as well as caching.
Performance optimization
In the comparison of jQuery, AngularJS reduce the loading time as it can analyze the DOM and javascript and jquery for it. It loads super fast tojQuery and other JavaScript and another JavaScript framework. So it does not matter how many files and codes are there; AngularJS can easily manage it through perfect routing.
Scalability
Scalability is a serious concern in big projects. AngularJS is scalable because it makes use of MVC structure for big projects.
Very Good With Restful Interface
AngularJS works fast with the restful interface and it can be easily integrated with the restful combination of APIs that other web apps cannot even think of.
File Organization Is Easy
File organization is a significant part while developing a big application. Routing is very effective in AngularJS and organization of files done using routing is a stress-free procedure in AngularJS.
(2) Benefits In Small, Medium Size Projects:-
Small and medium-size projects usually have a common concern of speed, good design, and more users. Informative websites, online shopping portals, portfolio websites are part of small and medium size projects. So, when the user visits a website and if it loads in less than 2-3 seconds, it is beneficial for the website owner.
AngularJS has so many 3rd party libraries that can be used for better design and to improve the front-end look. So, AngularJS is not only beneficial but also convenient for the big, medium and small size projects.
Scope of AngularJS
You would have heard that AngularJS is not secure as it is widely used to build client-side applications, but none of the application is built without a server. Every application has its data, and that is required to be stored on the server and fetch that data from the server so the programmer can fix security while fetching that data. So the issue of security should never be a question with AngularJS.
From the developers' perspective functional language features, dynamic typing such as closures as well as lambda, substituting and overloading to object is pretty hard in AngularJS. So to work with AngularJS in-depth knowledge and skillful expertise is indeed required.
Future Of AngularJS
AngularJS was started with the first version 1.0, and till the time it introduced version 1.3 so many favorable changes were already made regarding its security. But, when it comes to Angular 2.0 the majority of the problems were resolved and did some good changes regarding security. AngularJS supports fast and modern browsers such as Firefox, Chrome, Internet Explorer, iOS, Android and many other platforms without any hesitation.
Introduction of AngularJS was a favorable decision of Google. However, it's not possible to predict the performance of new frameworks which will be introduced in the coming years. At present, everyone is adopting AngularJS as it can be easily integrated with other frameworks like Ionic, Telerik's Kendo UI and many more. Skilled developers already like Angular version 2.0 because coding has been reduced and the complexity has been lessening due to its MVC pattern.
How to connect real-time database(firebase) with your angularjs application.
1) In order to use AngularFire in your project, you need to include the following links in your index.html:-
< !-- angularjs library -- >
  < script src="https://ajax.googleapis.com/ajax/libs/angularjs/1.6.9/angular.min.js" >< /script >
  < !-- firebase library -- >
  < script src="https://cdn.firebase.com/js/client/2.2.4/firebase.js" >< /script >
  < !-- firebase library for angular js -- >
  < script src="https://cdn.firebase.com/libs/angularfire/1.1.2/angularfire.min.js" >< /script >

2) Create service like "firebaseService.js" then Inject firebase:
 I.E.:- var app = angular.module('firebaseModule', ['firebase']);

3) Login into firebase console, create a firebase reference to connect with firebase DB which generate the reference URL:-
Used the reference URL at getFirebaseObj method into firebaseService.js like:-
      I.E.:- var firebaseObj = new Firebase("https://angular-firebase-connect.firebaseio.com/Employee");

  =>  $firebaseArray service takes a firebase reference and returns array which contains data provided by firebase reference
      I.E.:- return this.fb = $firebaseArray(firebaseObj);
4) Now, We have files form.html and form.js, Now we want to perform crud operation on the data with form.html and firebase.
 getFirebaseObj function in firebaseService returns firebase reference in form.js 
      I.E.:- var fb = firebaseService.getFirebaseObj();
5) CRUD:
We have a file form.js
	  $scope.addEmployee = function() {
	    var employee = $scope.emp; 
	    var empData = {
		'name' : employee.name,
		'age' : employee.age,
		'password' : employee.password,
		'email' : employee.email,
		'message' : employee.message
	    };

	  =>  For Add the data to the Firebase.
	  =>  $add method of $firebaseArray service takes object as a parameter and returns a promise which will be resolved when data has been saved 	     into firebase DB 
	      I.E.:-  fb.$add(empData).then(function(ref) {
		        $scope.emp = {};
			//You can popup the success message here.
		      });

	  =>  For retriving the data from the Firebase.
	  =>  $loaded method return a promise which is resolved when the data has been downloaded from the firebase DB
	      I.E.:-  fb.$loaded().then(function(x) {
		          $scope.employeeData = x;
		        if ($scope.employeeData.length !== 0) {
		              $scope.showEmpData = true;
		          }
		      });

	  =>  For Delete the data from the Firebase.
	  =>  $remove method return a promise which is resolved when the data has been deleted from the DB
	      I.E.:-  $scope.removeData = function(user) {
		        fb.$remove(user).then(function(ref) {
		            if (ref.key() === user.$id) {
				//You can popup the success message for delete record.
		            } 
		        });


Storyteller, Marketer, Developer, Writer, Thinker, Enabler, Rescuer, Wordsmith. I see myself as a Content Strategist. I love to write about anything and everything that pertains to the digital world, as I believe it's an ever evolving space creative in its own way. I love facing challenges, Blogging and sharing technologies