2015
One of the most common comments that I have heard from my professional colleagues cum friends – AngularJS developers that "I enjoyed working with AngularJS, but I am shifting to React now.
2016
The Alpha version of Angular2 has been made accessible to developers much earlier in the year of 2016, however; Angular2 came out of the beta in midyear-2016. Even before the launch of Angular 2, a tug of war has been initiated between AngularJS and React developers. This resulted in jotting down many unbiased articles and blogs drawing special attention to React as a winner by neglecting essential merits of Angular2.
Note: –
First of all, comparison of Angular2 vs React is a senseless. It's a comparison of orange and apple. Angular is a framework, whereas React is a library. Both are front-end UI designing technologies that have their own pros & cons and interpedently work with their own approaches. As this is a very contentious topic, within the development community and most people whom I know that personally favor React over Angular 2, but I think your decision should be educated, not based on uninformed bias. This blog put forwards opinionated and impersonal view of the vital facets supported by both these illustrious platforms.
Here's a quick overview of the two technologies:
Why We prefer React Native over iOS and Android
Explore Now
Angular 2 vs React: What to choose in 2017?
What do Google Trends tell us?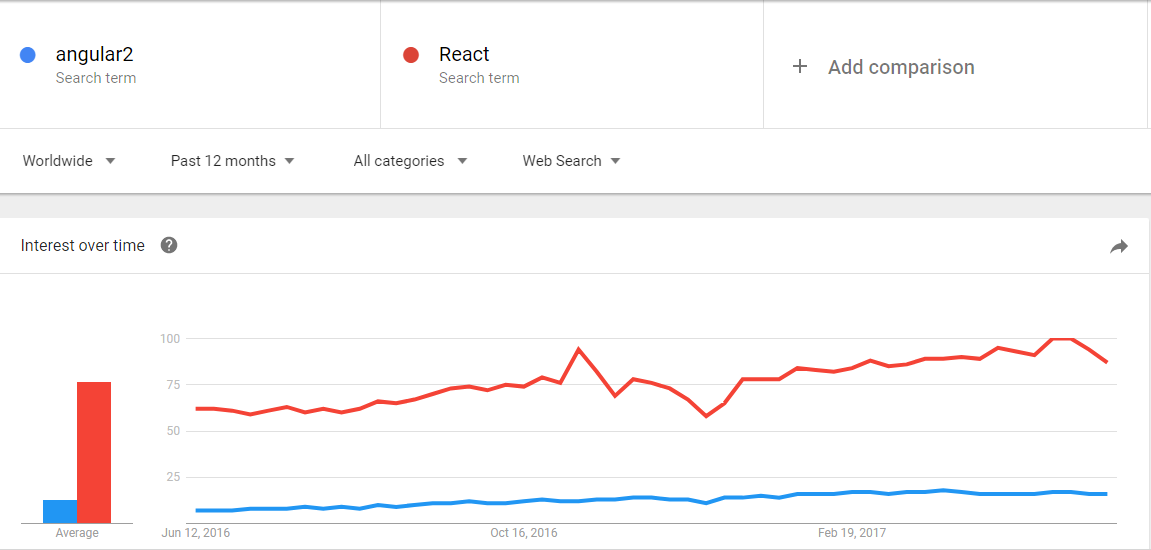 Job Postings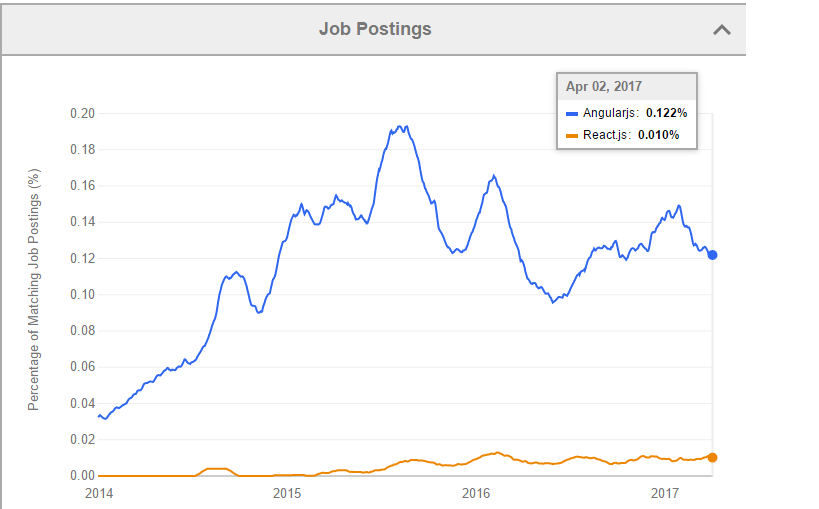 Jobseeker Interest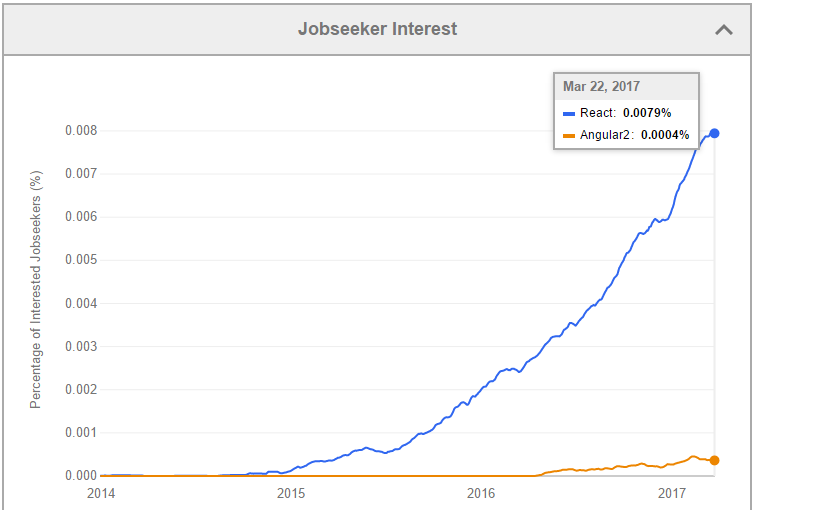 It's a size of community and contribution.
Our Background
We are an USA based IT organization, headed by Chandresh Patel, co-founder and CTO, a software architect and Agile coach with 12 years of experience and dedicatedly serving his expertise to the small, medium and large enterprises more than a decade. He was already familiar with AngularJS when we decided to use Angular 2. However, we developed an app in React before deciding on Angular.
Hire Full stack developers with a broad knowledge of React native on your terms.
Contact us
At Bacancy Technology, we truly believe that both Angular and React are great choices and have lets us develop amazing products React: Messenger and Angular: healthcare.gov to build and grow on top of them. Our decision has always been situation and based on the requirements of the project, the team and their experiences as well as client's preferences. Let me shed light on some findings we had through our journey in choosing between Angular2 and React.
The basics Angular2 and React
| | | |
| --- | --- | --- |
| Attribute | Angular2 | React |
| Version | 2.0 | 15.4.0 |
| Year of Creation | 2010 – 1st version | 2013 |
| Company | Google | Facebook |
| Size prod. | 144 KB | 117 KiB |
| Size Dev. | 1 MB | 559KiB |
| Language | TypeScript | JSX |
| Github stars | 55K | 60K |
| Github Contributors | 1569 | 944 |
Source: techmagic.co
Core Features
| | | |
| --- | --- | --- |
| Attribute | Angular2 | React |
| Churn | Reduced | High |
| Tooling | High | High |
| Code Design | JS into HTML | JavaScript Centric |
| JavaScript "Fatigue" | Less | More |
| DOM | Regular DOM | Virtual DOM |
| Learning Curve | Medium | Low |
| Packaging | Medium | Strong |
| Abstraction | Strong | Strong |
| Debugging General | Good JS/Good HTML | Good JS / Bad HTML |
| Debug Line No | No | Yes |
| Unclosed Tag Mentioned? | No | Yes |
| Fails When | Runtime | Complie-Time |
| Binding | 2way | Uni-Directional |
| Templating | In TypeScript Files | In JSX Files |
| Component Model | Strong | Medium |
| MVC | Yes | View Layer Only |
| Rendering | Server Side | Server Side |
Source: techmagic.co
For convenience
JavaScript Framework
Angular2
React
Concept
Component-based architecture
Real DOM
Client-side and server-side rendering
Component-based architecture
Virtual DOM
Server-side rendering
Project setup
Relatively easy
(more difficult than with AngularJS)
Relatively difficult
Data binding
Two-way data binding
One-way data binding
One-way data binding
Dependency management
Uses built-in framework for managing dependencies
Requires ReactDI to manage dependencies
Supported
languages
TypeScript
CoffeeScript
JavaScript
JSX
JavaScript
TypeScript
Flexibility in use
Inflexible (very prescriptive)
More flexible
Learning curve
Difficult (for advanced JS developers)
Easy (for intermediate JS developers)
Source: rubygarage.org
Pros: Angular 2
Component Based
AngularJS 2.0 is built on components it allows to reuse separate components along with modularity. What this means is that you can use AngularJS without any wrapper coding, any component written as a Web Component.
Typescript Based
AngularJS was developed on the built of TypeScript with comprehensive support of ECMAScript 6 Standardization and one of the distinct advantages over its former version Angular 2 has its support for module landing that is complemented using system.js.
Better speed and Great performance
Angular2 results have been amazing with better speed and flawless performance in terms of testing, browser rendering, animation and accessibility throughout all the components.
Cross Platform
AngularJS2 offers comprehensive support to the cross-platform solution and offers wide-ranging support for desktop apps on Linux, Windows and Mac using similar AngularJS methods plus provide the ability to integrate native OS APIs.
Angular2 CLI.
Angular2 CLI makes it possible to develop an application that works right out of the box and follows best practices!
React Pros
Complete separation of data and presentation.
React offers little more than a presentation layer. React components follow a concept of 'state' which is best for ephemeral storage.
Easy to start writing.
Writing in React is as similar to as writing in HTML. One can easily start coding, skipping all the syntaxis.
DOM binding isn't React's concern.
Earlier if you have written any front-end component with or without framework in the past half of a decade you might be familiar with the pain of building DOM elements to functionality. React handles this in much simpler way, as it splits across several areas of the code with single responsibility.
React isn't a framework.
React itself is a library that provides a declarative method of defining UI components. Redux is a library that offers data store. ReactDOM is an associated library that provides rendering and DOM diffing. React-Redux provides the glue between React and Redux.
Companies that use Angular2
PayPal
Upwork
The Guardian
Nike
Google
HBO
Sony
General Motors
Companies that use React
Alipay
Airbnb
Dropbox
Facebook
Netflix
Reddit
Based on our experience and specific client requirement for both React and Angular 2 we suggest our client to go with. However, it does not mean we aren't open to new options, but right now, Angular2 and React fits to their needs and we are thrilled with the results. There is no "silver bullet", you need to choose the right solution that fulfills your challenges, goals, and long-term strategy and if you are still not sure, then you should definitely get in touch with our expert to help you answer your questions and suggest you choose the right platform.
Everyone has their own opinion and I know there are a lot of opinions on this subject so please feel free to let us know how can we help you to get your next project done. We at Bacancy Technology have delivered corporate business solutions using both Angular2 and React. We have experts for both, so based on your specific requirements, you can hire dedicated Angular2 developers or hire ReactJS developers from us.
To discuss further possibilities and avail counselling from our experts get in touch with us at solutions@bacancytechnology.com
---
---