You have a come with a million-dollar business idea that you think has enough potential to change the world. Here, comes the first challenge that you should build your application with an in-house team, or you should outsource the project who already has experience.
This question has led to a lot of debate in the industry because we have seen both sides, so we are very much familiar with both approaches as well as their pros and cons. So. whether you are a big enterprise or have just found an idea – startup, I hope this guide will help you make the right decision.
Quick Facts
Recently, Whiteland Research has conducted an in-detail analysis and found out that 80% of the clients will continue to outsource, while 43% are still planning to outsource more. So, if you are planning to outsource, then here's a piece of advice that you should take into consideration.
Why Choose Outsourcing Over In-House Development Team?
If you will go through the numbers of articles, then most of them will end up declaring outsourcing a clear winner. Here are some challenges that make outsource development a clear winner over in-house software development
Huge investment
Lack of skilled people
Maintenance of workplace
Quick access to tools and technologies
Lack of domain expertise
Dependency
Outsourcing Helps to Touch True Realms of Success Over In-house Challenges.
Outsourcing your project has a number of unique benefits. In a hassle freeway, the organization lets you access the required skills as well as talented resources. You have complete flexibility to efficiently manage your staff and add as well as eliminate specialists upon your project requirements.
Furthermore, it's a cost-effective approach. Typically, the rates are way lower than the US and European regions. Due to the increased flexibility, you can speed up the application development process by adding more numbers of resources and skilled project managers.
With a remote software development team, you can fully focus on your core business objectives to increase your business efficiency. So outsourcing is a solid silver bullet, and here are some considerations you should practice to make sure everything works as expected.
Effective Communication for Successful Outsourcing
When you are planning to outsource your project, the first thing you should take into consideration is "communication" as it helps to overcome geographical and language barriers. Here you can make sure to consider their industry experience – what kind of work have they done in your niche area? Technical expertise, scalability, and IP ownership should also be significant concerns.
Current Team Structure to Execute at Scale
In the initial phase, when the new development teams are formed, whether as a startup or already an established organization, initially it feels wonderfully efficiently. Fixing problems and brainstorming sessions, not at all, feel like burden because there's an immediate impact of the work which is clear and meaningful.
But, when the organization grows and the team becomes paramount, it's a challenge to test, measure and prioritize the work of engineers and designers at the scale. Dunbar's Number explains that there are turning points at each organization size, and at approximately 150 team size, most organizations feel strong growing pains at this point you should take sound decisions to outsource the work to make organization into elastic mode to add specialists as per the requirements from the trusted outsourcing solution providers to get-the-job-done more efficiently.
Business Activities You Can Outsource
Here you have to understand that which specific part you are planning to outsource. It is advisable only to outsource the tasks that are tedious for your team to manage. Software product development broadly involves:
Product architecture
Product management
Software design and development
Software testing
For IT solution providers, outsourcing is most effective when you focus on software development and testing.
Considering the traditional mindset, it makes sense to keep your product management functions in-house. But Software development services and testing are execution-focused roles can be easily outsourced as they are easy to manage with Agile. They also provide significant benefits, as development and testing typically provide the bulk of the development lifecycle time. But when your outsourcing team is working from the different geographical locations and time zone, then it's difficult to sync the team at that moment. Here Agile plays a crucial role in structuring the plan to solve the problems and sync the team to work more efficiently as a team.
Get Yourself Prepared to be Agile
When you select your choice of outsourcing solution provider for your project you have to educate them for your concrete vision to get them sync with your in-house team. At that point Agile mythology is a sure shot way to set up a successful development team.
Evaluate the Team, Not Individuals
When you outsource the project, you won't find any problem with the individual developer and with their exceptional skills. All the team members play a crucial role in the success and failure of the project. But, when you are collaborating them to work together make sure to evaluate the team instead of individual success to encourage the innovation from within.
Agile and Outsourcing more Effective Project Planning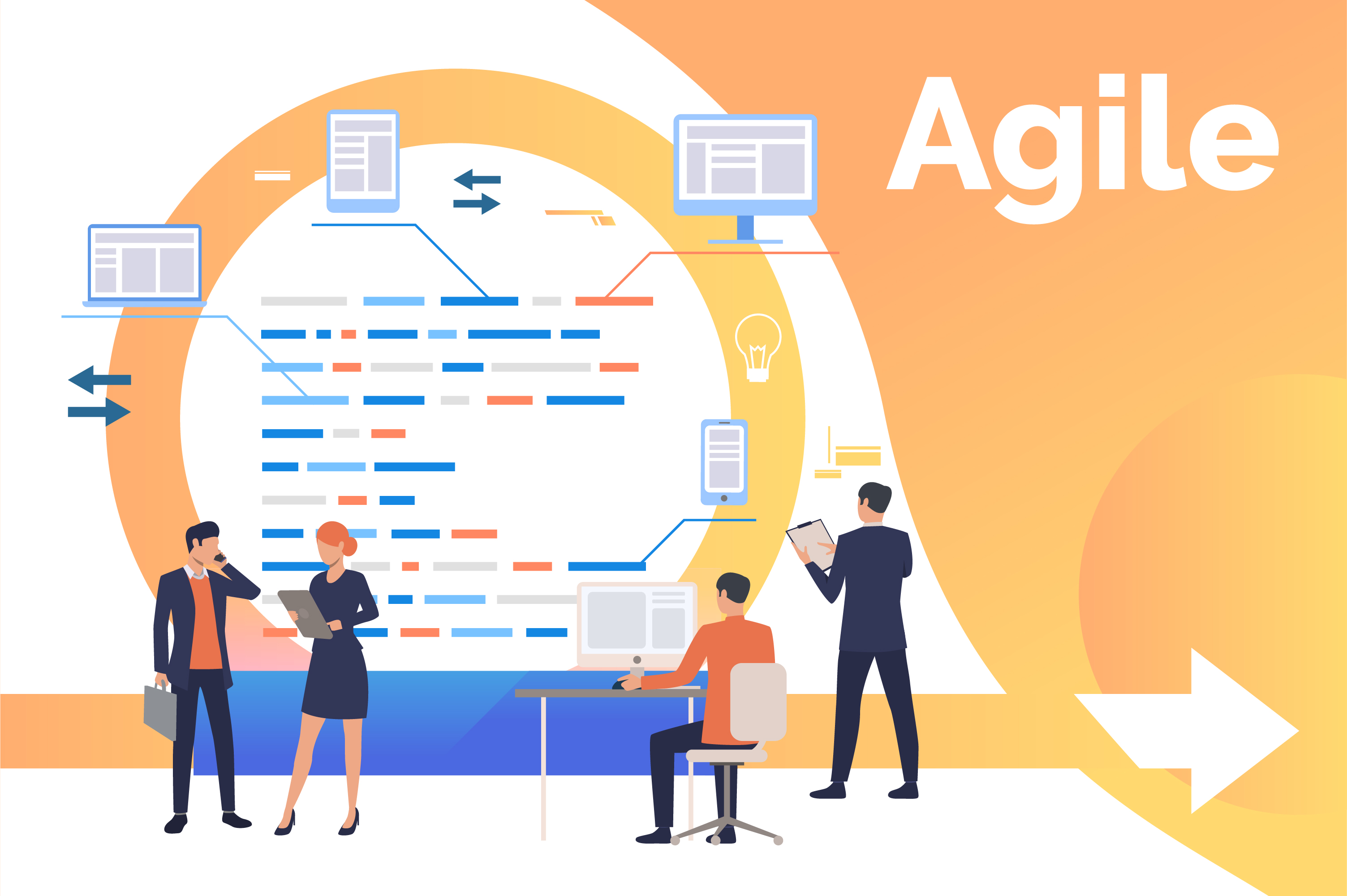 Outsourcing software development part to the offshore organization is a widely popular practice. As it helps to save a significant cost, time, and you get direct access to the skilled talent specialists the organization has. Outsourcing and Agile goes hand in hand with lots of benefits. Because Agile helps to gain trust, daily work updates, eliminate the time zone difference, and helps to achieve the results on-time and within budget.
Agile methodology and outsourcing require co-operation and readiness from a vendor and a customer. Because choosing Agile and going Agile requires the change of traditional mindset and adopt transparent collaboration throughout the whole project.
Wrapping Up
The right combination of Agile processes and offshore outsourcing is significant, but to be successful it must be supported by hassle-free communication and strong team-building that is mandatory to overcome cultural barriers, time zone differences as well as languages. When you combine the right pieces in one place, you will be able to identify the benefits of offshore development. Thanks to the technologies and effective communication tools, which is making outsourcing more convenient and effective than ever before.