Last Updated on August 9, 2022 | Written By: Riken Solanki
February 8, 2016
5
min read
As time inches forward with each passing year, one thing's becoming crystal clear: The design and development world is being rocked by many new design trends loom on the horizon. The field of web design is always changing with new tools, workflows, and best practices for constructing usable layouts.
If you're planning about giving your website a fresh look or facelift with the hottest web design trend, then here are some trends to keep in mind to draw greater attention.
Hero Images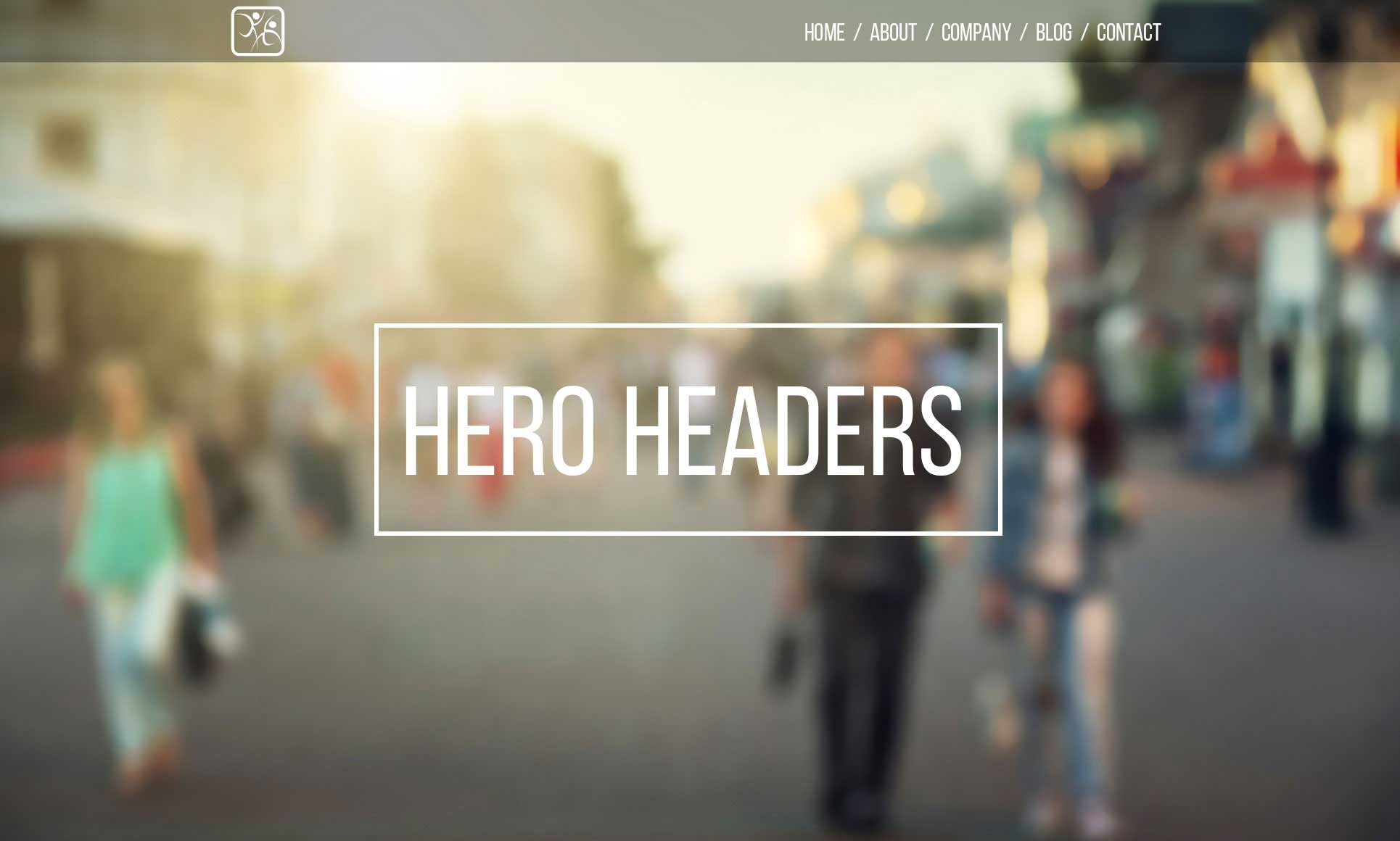 I am very much thankful of people who have access to high speed Internet and quality monitors, web pages are becoming more beautiful than ever. Increase of internet speed means without worrying about slow loading times, you swiftly enjoy HD images and videos on your website.
Hero image is a term used in web design for a specific type of web banner. A hero image is the increasingly popular large image that many websites display as a header or background. For example, on some WebDVM4 websites, the large background picture is a hero image. These hero images give a sense of your practice's personality and purpose. The hero image really helps to make your website colorful and appealing to the eye.
Pros
Modern, personal, and inspiring design
A perfect way to engage the new clients
Cons
Picking the wrong image can be confusing
However, it can be customized with photography and/or video
Ghost Buttons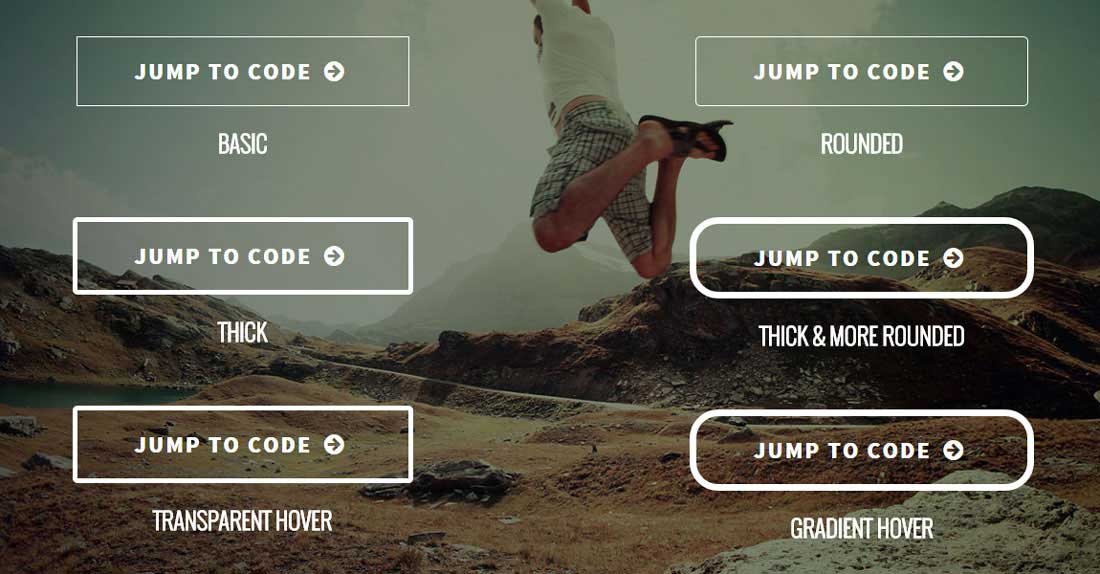 This beautiful design trend was also an emerging trend in 2015 as well and I am happy to see that it's still going strong. Ghost buttons are like interactive clickable transparent buttons, so you can see the background image behind them. They usually consist of a simple shape surrounding bold text and are often larger than traditional buttons.
Pros
Easy to design
Works with almost all design themes and layouts
Adds sophistication and depth
Lightens the weight of a design, especially one that uses richer images
Cons
These should be used as a call-to-action or in a statement piece
Not ideal for EVERY button, specifically in site navigation
It important not to forget accessibility, being sure that the button is legible and clear avoid busy patterned
Flat Design – Material Design
(Google's Flat Design – Material Design Example)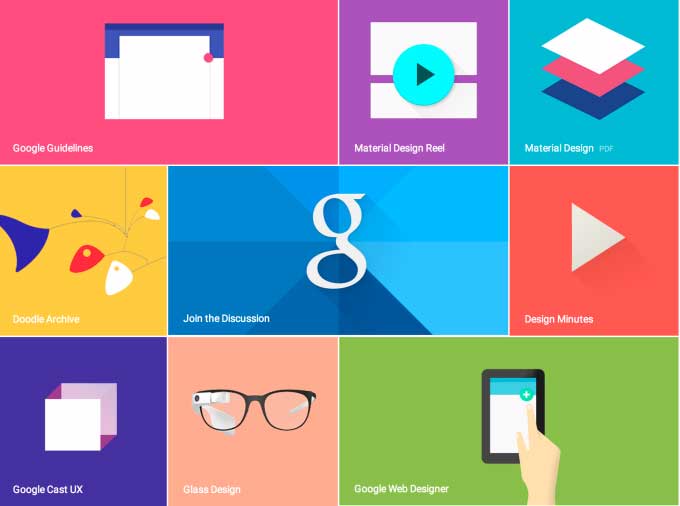 The flat User Interface design has been a growing trend since early 2013, particularly flourishing in 2014 and 2015. Flat design is very minimalist, avoiding three-dimensional design elements such as drop shadows and gradients. The simplicity of flat design allowed it to be very streamlined and focused on helping the user navigate as efficiently as possible.
The ultimate goal of Flat Design – Material Design is an excellent user experience and the standardization of the way we use the Internet.
Pros
Effortless navigation
Functional and stunning across all media from tablet to mobile to desktop
The universal expectation and standard of digital interaction moving forward
Cons
Sites can look a little similar to one another
Requires real investment in content
Bright and Solid Colors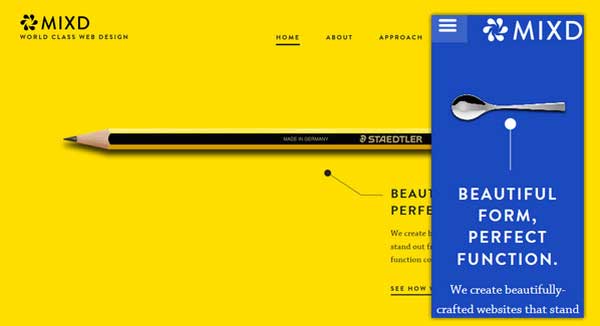 In 2015, we saw bright, bold primary colors everywhere as big brands shifted from heavily artificial textures, dramatic shadows, and over-engineered logos back to the fundamentals of design. There are also some websites dabbling with using modern gradients created from similar neon colors. While this has a pleasing aesthetic, it might be the kind of edgy trend that may last in the 2016 year as well.
Pros
Used effectively bright colors can help direct content navigation
Makes content more digestible
Attractive and energetic, bright and solid colors can be reassuring
Cons
Colors is great, but make sure you have the contrast needed for accessibility and legibility
Too much bright colors can be overwhelming when not used effectively
Typography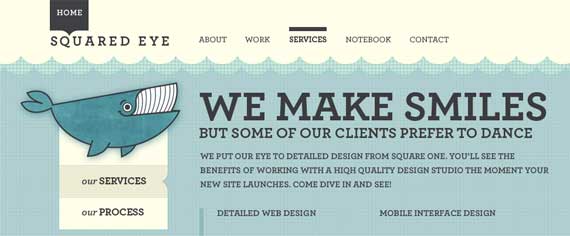 The beauty of typography is that the creative possibilities are endless.
Pros
Typography design is the best to repentant a design to display a message readable and aesthetically-pleasing composition.
Contemporary and timeless
Highly expressive
Dramatic typography can help break up large blocks of content with view retention
This one is here to stay and will evolve over time
There are great open source resources online that have examples of how and when to use their display fonts
Cons
Too many different type faces can make a visual piece look – cluttered and unorganized
Like color, there has to be contrast between the display font and the body copy font
Make sure you're using type legally. You should double check these restrictions before you use the copyright issue
K.I.S.S.
It's not about the influenceof 1970's hard rock band! This abbreviation should be repeated over and over in your head while creating any design: 'Keep It Simple, 'Keep It Simple and Straightforward." The idea is to avoid unnecessary complexity and recognize that something doesn't have to be complicated to be good.
Pros
Complete and clear understanding that can help users (clients) retain and recall key information
Helps content creator focus on the essentials and content consumers to find what they need most efficiently
No more wasting time and resources on unnecessary embellishments
Cons
Finding the balance between too much information and not enough takes some practice
Creation model – My Final Predictions 2016
2016 is going to be the year of empathy, design is going to move further from the 'create and consume' model for the 'co-creation' model, allowing people to become personally invested in a company's story.
Pros
Unprecedented brand loyalty
Real investment by business in the personal customer experience
Cons
No longer a perk to dealing with a business, this will be a customer expectation
Real investment by business in the personal customer experience
If you think your website needs a new look, talk to us! At Bacancy Technology, we assure you to provide all of the latest design trends. And if you already have the most updated website, you can get a complete annual facelift with our SEO service!
For more information make an inquiry at:[email protected] or we also can have word on +1-315-299-3328 for additional information!