Node.JS is a platform built on V8, the Javascript engine which allows you to create fast and scalable web applications. Node.JS uses an event model and a non-blocking I/O system that makes it light and efficient, perfect for real-time applications that process data in an intensive way and can be distributed across multiple systems.
Node.JS is usually dismissed by saying that it is a "server in Javascript", but this is partly true: Node.JS is more generally "server-side Javascript", which is a Javascript engine, which, among other things, is capable of pull up an HTTP or TCP server in a few lines of code! The server is therefore not something unrelated to the web application we want to create, but it is a feature of the application itself!
It is not a secret that the use of frameworks allows the development of projects more quickly, facilitate scalability and code maintenance.
However, here are the available insights of the frameworks that really work better, achieve high quality code and build powerful web applications: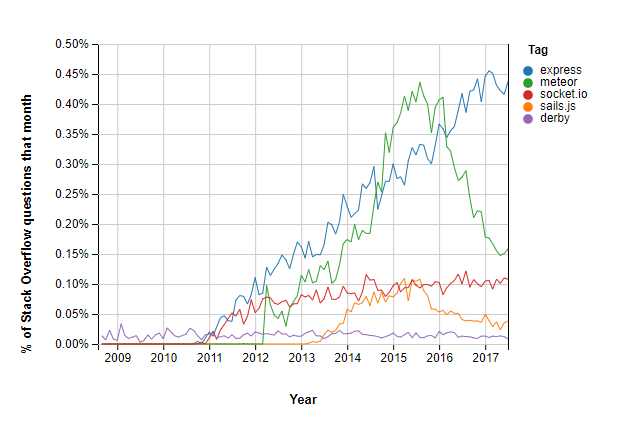 Express.JS
Express.JS, this is the most popular Node.JS development framework for Node.JS through the Internet and among web developers. Using a robust set of functionalities developers can create single, multi-page or hybrid web applications.
Express.JS is based on Connect, which is an extensible HTTP server management framework which provides high-performance plugins known as middleware. Middleware is software that assists an application to interact or communicate with other applications, software, networks, hardware and/or operating systems.
Meteor
Meteor is written in Javascript based on Node.JS which allows us to use the same language programming on the server side and on the client side. Like it or not, browsers only understand Javascript so to program on the client side we can only use this language. Why not optimize resources and do the same on the server side? It is more Meteor goes further and allows the same code that we write for the client we can use on the server. It ended up having to write all the logic twice, once in Javascript for the client and once in the language that we use on the server (ruby, java, .net ….).
Socket.io
Socket.io is a Javascript library for Node.JS that allows two-way communication in real time between client and server. For this, it is mainly based on WebSocket but you can also use other alternatives such as Adobe Flash sockets, JSONP polling or long polling in AJAX, selecting the best alternative for the client at runtime.
Sails.JS
Sails.JS is a framework which handles the same good practices as other admired giants like Django and Ruby On Rails. In it, you can develop API's and applications of very high level for your projects, without losing so much time in the details and focusing on the construction of the product.
It is made under the Express framework including several layers of abstraction to make development easier. It has an ORM, methods to create RESTful API and support to handle requests in real time, thanks to Socket.io. It is especially good for making applications that work in real time, such as chats, games, or collaborative applications.
Derby
Derby is a framework for building applications in real time which work both in the browser and in Node.JS. It is proposed as a solution to the disorder caused by adding dynamism to classic MVC applications and implicit duplication by including an MVC structure in client side. The documentation and the degree of development of the project are limited.
Mojito
Mojito, the Yahoo platform for web developers based on Javascript was initially developed for the company's internal use that has been released worldwide. With the arrival to open source of this framework for the development of web applications using Javascript, Yahoo! aims to grow its tool by promoting the approach of new developers.
Mojito allows you to design more flexible applications based on Javascript that works on different devices on the market and take advantage of the client (browser) and server-side (Node.JS) technologies to obtain better performance.
Total
This framework allows you to create websites and services. It does not depend on any external service and you can install modules using the Node.JS Package Manager. It contains an extensive documentation with examples included.
Conclusion
Before you hire Node.js developer, our team has observed, every framework has its advantages and disadvantages. That is something our every software developer has experienced. Of course, there is a preference for a certain framework but the one that shall be ultimately used should depend on the type of requirement your project has.

Chandresh Patel is a founder & CEO at Bacancy Technology. He is a founder of vision and mission of Bacancy Technology and constructed work ethics
@bacancytech
to achieve that vision and mission. He oversees Business development, day to day execution of strategic planning and also looks after customer service & delivery. He's an avid blogger and writes on the publications like
Dzone
,
e27.co
,
Marketo
,
Smart Insights
and featured in
Insightssuccess
.