Last Updated on September 23, 2022 | Written By: Riken Solanki
January 2, 2015
3
min read
One can not deny the fact about technology being the Sky and humans being the Earth. Technology has covered humans, the way sky covers Earth. Evaluation and Evolution are prime factors in technology and carrying this internet has arrived evaluating its base to create an evolution in Information & Technology as well as Computer & Software services.
What is the Current Trend in Gadgets & technology?
Humans are now covered with internet and gadgets, and in depth, specifically by mobile and handsets. The present scenario explains about everything on internet going mobile, and if someone is thinking about going for web application, he/she must again revolve back to find the changing dilemma of trends that leads to mobile applications, serving almost everything at hand.
How Things Will Change in 2015?
Year 2015 possibly is the revolutionary year ahead where people will experience the effect of web going mobile. Observing these stats http://techcrunch.com/ one may arrive to a conclusion of m-commerce and mobile applications are the next big thing, especially for business entities.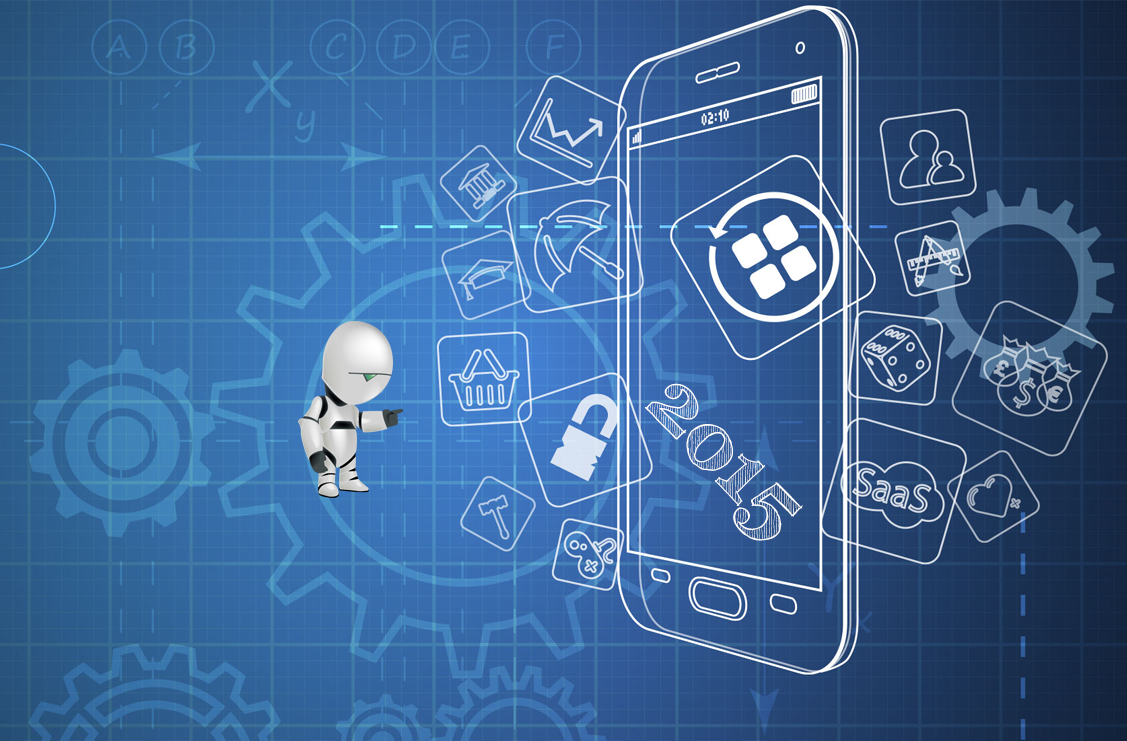 Predictions for 2015 on Mobile Usability and Application
Marketing Role of Mobile
From a survey we made (using Google analytics) on a certain article by letting it roam in social media, we found the number of clicks via cell phone were 2x number of engagements via desktop. Business entities can promote easily via mobile applications using amusing features such as photo sharing, video sharing, audio, animations, etc.
Mobile Application Market to Go 25Billion Dollar by 2015
The mobile application market is to reach 25 billion dollar by 2015 from 6.8 billion dollar during 2010, according to the new market research by Marketsandmarkets in their report 'World Mobile Application Market 2010-2015'. http://www.marketsandmarkets.com
Number of People Using Healthcare App Will Reach 500 million
According to MHEALTH Report by Research2Guidance, around 500 million people will be using healthcare mobile applications in 2015. As per reports there are around 17,000 mHealth applications in versatile app stores out of which 74% are paid ones. Moreover, revenue from such apps is expected to be in the form of product sales rather than revenue from downloads.
Emergence of Enterprise Mobile Apps
In a recent Enterprise Mobile Forum http://www.kevinspain.com , General Partner, Kevin Spain said "There is a huge opportunity to serve the 2.5 billion global non-desk workers. At $40 per worker per year, it could be the next $100 billion opportunity for enterprise technology. I predict we will start seeing more enterprise mobile use cases in 2015 that generate real revenue."
Carrying this, one may assume that mobile applications are not only going to cover marketing and advertisement but also are expected to cover the clouds of business in a professional way. Cloud mobile applications for business and entities are going to be the best option for entrepreneurs to own an enterprise application in a flexible and cost effective way.
Wrapping up
Reading the above stats will certainly heave you to see the possibilities of mobile applications as a leader to lead business entities from web to hand. Everything will now be available at just one click on your mobile. From eCommerec to service up to travelling and healthcare all the industries will now be ruled over by dynamic yet easy to use mobile applications.
It is wise to jump into the pool to gain utmost benefits of future trends by planning and coordinating things in present. And if you too are looking for an app developer to create a dynamic and resourceful eCommerce mobile application or business mobile application or even a mobile application for social media, we at Bacancy Technology will serve you in the most productive way by building up an application of your standard and requirement for iOS/Android, whatever you wish for.